The Katherine Museum
The Katherine Museum collects and preserves the region's cultural heritage and artefacts. The Katherine Museum works with the tourism industries in the development of the Museums precinct and visitation areas.
The Museum encourages the community of Katherine to bring their families and friends to experience the diverse history. We encourage the community to come to our events and functions to support the Museum. Each year the Museum holds a community event for families as a thank you for their support.
The presentation and keeping of the collections and objects proudly abides by recognised practices as set out by Museums Australia.
History of the Museum Building and Aerodrome
This historical building was the passenger terminal and air radio building for the Katherine Aerodrome. It was used for 30 years from 1945 until the Aerodrome officially closed in 1975. Services were moved in that year to the present site at Tindal. However, this was not the first time the Aerodrome had been moved.
In 1919, the first airstrip was cleared near the Sportsman's Hotel at Knott's Crossing. Its intended use was for the England to Australia Air Race, but due to a change in route the aviators did not land there. However, it was used by Captain Wriggly and Sergeant Murphy, on December 10th 1919, whilst surveying the Australian section for the air race. This flight was the first Australian flight from South to North.
Late in 1919 a site was surveyed for an airstrip on the north side of the river at Emungalan. This was cleared and completed in 1923. Sir Alan Cobram KBE landed at this strip on his flight from England to Australia in 1926.
In 1920, the former Katherine Racecourse, the area in which this building stands was secured for the Katherine aerodrome. Clearing started in 1933 and when it was certified fit for use in 1934 the Emungalan strip was abandoned. From 1934, various improvements were carried out until 1940 when it was declared a subsidiary defence aerodrome to Darwin. The strip was then gravelled.
In 1924 the aerodrome was taken over by the Americans. The aerodrome was bombed by the Japanese during WWII. Later that year, the RAAF took control and DCA flight service commenced.
The runway was sealed in 1943 and the following year the transmitter building was constructed. This building was completed and operations were commenced in October 1945. The last aircraft officially used this aerodrome on the 10th January 1975.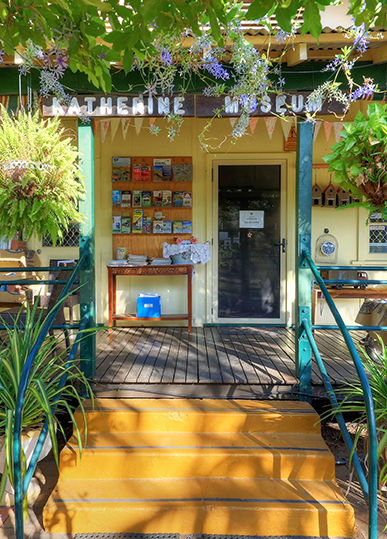 Our Gardens, Your Retreat
Come and sit and feel the tranquillity in our gardens and surroundings. Bring your own chair and a book if you feel like spending time in the gardens away from a busy life. Let the gardens embrace you…there's no better place to be.
Find Out More